My Blog
Posts for tag: dental implant
By Steven P. Utecht, DDS
November 25, 2020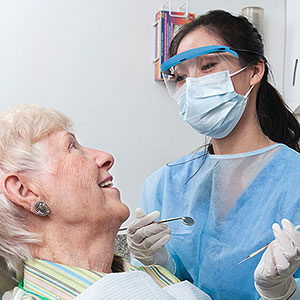 Daily oral hygiene and regular dental cleanings help keep your natural teeth and gums healthy and disease-free. But they're also a priority with dental implants. Here's why.
Unlike other restorations, an implant replaces both a tooth's crown and root, the latter by way of a titanium metal post imbedded into the jawbone. Bone cells grow and adhere to the metal surface, forming a secure and lasting hold.
But although quite durable, this hold differs significantly from natural teeth, which are actually held in place by a tough, elastic tissue called the periodontal ligament. The attachment of the ligament's tiny fibers to both tooth and bone secure the tooth in place, as well as supply it and the surrounding gums with nutrients and defensive antibodies to fight infection.
Implants don't have this relationship with the periodontal ligament. The tissues around an implant are thus susceptible to an aggressive form of periodontal (gum) disease called peri-implantitis. This kind of gum infection can progress rapidly, leading eventually to bone loss and possible failure of the implant.
Daily brushing and flossing of both natural and implant-supported teeth lowers the risk of gum disease, particularly peri-implantitis. It's also imperative that you undergo regular cleanings, at least every six months, with your dentist or dental hygienist.
These, however, won't be the typical cleanings performed on natural teeth. Hygienists don't use metal cleaning implements to remove plaque and tartar deposits because they can scratch the metal materials of the implant and crown. These microscopic scratches can then attract bacteria that trigger gum infections. Instead, they'll use instruments made of plastics or resins.
Hygienists also rely heavily on ultrasonic equipment that vibrates plaque loose on or around implants, which are then flushed away with water. The tips used with these instruments are also typically made of nylon or plastic sheathing.
Even with the extra hygiene care needed, implants still enjoy a 95% or higher survival rate after ten years. You can ensure your implants achieve that level of durability by keeping them clean and seeing your dentist at the first sign of a gum infection.
If you would like more information on maintaining dental implants, please contact us or schedule an appointment for a consultation. You can also learn more about this topic by reading the Dear Doctor magazine article "Dental Implant Maintenance."
By Steven P. Utecht, DDS
November 15, 2020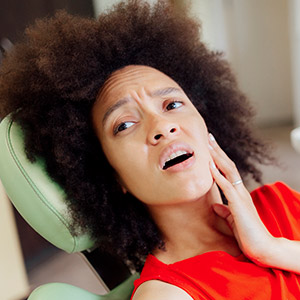 The subject of allergies covers a wide swath in medicine. Among other things, people have allergic reactions to animal fur, various foods and plant pollen. The effects are equally wide-ranging, anything from a mild rash to anaphylaxis, a life-threatening shutdown of the body's vital systems.
Approximately 5% of people are also allergic to various metals including nickel, cobalt, chromium and gold. Reactions to metal can occur when an allergic person comes in contact with items like jewelry, clothing or even mobile phones. There's even a chance of a metal allergy reaction from certain kinds of dental work.
It's unlikely, though, that you should be concerned if you're considering dental treatment or cosmetic work to upgrade your smile. Although allergic reactions like inflammation or a rash have been known to occur with amalgam "silver" fillings, it's quite rare. It's even less of a concern since "tooth-colored" materials for fillings are now outpacing the use of amalgam fillings, which are used in out-of-sight back teeth.
Of course, metal is used for other dental treatments besides fillings, including the most popular of tooth replacement systems, dental implants. An implant is essentially a metal post, usually made of pure titanium or a titanium alloy, which is imbedded into the jawbone. Even so, there's little chance you'll develop an allergic reaction to them.
For one thing, titanium is highly prized in both medical and dental treatments because of its biocompatibility. This means titanium devices like prosthetic joints and implants won't normally disrupt or cause reactions with human tissue. Titanium is also osteophilic: Bone cells readily grow and adhere to titanium surfaces, a major reason for dental implants' long-term durability.
That's not to say titanium allergies don't exist, but their occurrence is very low. One recent study detected a titanium allergy in only 0.6% of 1,500 implant patients who participated.
At worst, you may need to consider a different type of tooth replacement restoration in the rare chance you have a titanium allergy. More than likely, though, you'll be able obtain implants and enjoy the transformation they can bring to your smile.
If you would like more information on allergic reactions and dental restorations, please contact us or schedule an appointment for a consultation. You can also learn more about this topic by reading the Dear Doctor magazine article "Metal Allergies to Dental Implants."